The Current Economic Environment Introduces Head-Scratcher Interactions at Collective Bargaining Tables
Several economic pushes and pulls create head-scratcher moments at collective bargaining tables as negotiators assess:
where the fair deal resides, and

how best to communicate that to rank and file members.
This phenomenon presents unique challenges for negotiations conducted by human resources and labour relations practitioners, and union leadership.
Oil's Influence on Negotiations
Employment Impact on Collective Bargaining
Unemployment decreased to 
6.8%, with a 69.4% 
labour market participation rate and 
1.1% population growth yearly
. While, on the surface, negotiators view this as a positive trend in collective bargaining, they need to realize there is significant displacement within the labour market. 
Inflation and Negotiations
Those engaged in collective bargaining must realize that inflation pressures are not the result of a growing, healthy economy. Instead, it is the result of commodity pressures, supply chain issues, government policy, regulation, taxes and spending. All of which increase the risk profile for employers.
Earnings, Average Wages and Collective Bargaining
The split between earnings, CPI/inflation, and wage rates present an inconvenient truth for negotiators currently engaged in collective bargaining. Now is not the time for a significant wage increase, except for perhaps the lowest earners – to offset growing costs of essential expenses.
Collective Agreement Negotiations
So how have negotiators at collective bargaining tables responded?
Alberta's February Bargaining Update
 shows 2022 settlements averaging 0.91%, 2023 settlements averaging 1.87%, and 2024 settlements averaging 1.70%.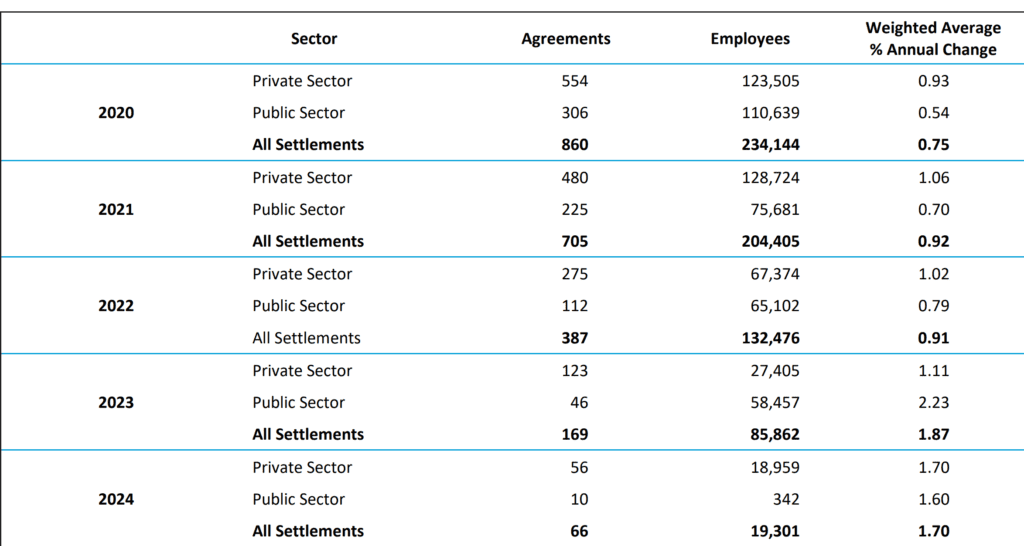 The gap between inflation and wages is symptomatic of a great deal of increased risk, unfriendly business policy and environment, and policies with the stated goal to make certain activities more expensive for Canadians in support of greening the economy. These upward pressures are not the result of a confidence-inspiring, predictable and healthy growing economy, so employers are appropriately cautious and reluctant to lock into structural operational cost increases.
Respectfully submitted,
Sam Kemble
Executive Operations Officer,
With People Inc.
(780) 886-1679